BBC announces Eurovision schedule
The BBC have today released details of programmes that the broadcaster will be showing as part of this year's Eurovision.
The programmes shown will be as follows:
Grand Final
Saturday 14th May, 8pm BST on BBC One
Graham Norton will provide the commentary on BBC One for Europe's biggest party night of the year.
As we announced previously, AJ Odudu will be the United Kingdom's spokesperson for this year, delivering the all important results live from Salford for the first time.
Semi-Finals on BBC Three
The semi-finals will be broadcast live on UK channel BBC Three, featuring commentary by Rylan Clark and Scott Mills who will return to the host city for the first time since 2019.
Tuesday 10th May, 8pm BST on BBC Three
As we announced previously, the interval will have an Italo-Disco theme where Dardust will perform accompanied by DJ/producer Benny Benassi and British band Sophie and The Giants, with the participation of conductor Sylvia Catasta.
Thursday 12th May, 8pm BST on BBC Three
During the show, UK viewers will be able to vote for their favourites. 10 acts from each semi-final will make it through to Saturday's Grand Final.
This semi final will include the UK's act Sam Ryder being interviewed by the Italian hosts and viewers will see an exclusive preview of the stage performance Sam will give for his song Space Man ahead of Saturday's Grand Final.
BBC Two
Saturday 14th May
The A-Z of Eurovision
First broadcast in 2020, Rylan narrates a guide to all things Eurovision in this compilation of highlights, as he takes a sideways look at the greatest singing contest on the planet.
Abba at the BBC charts the meteoric rise of the band with some of their greatest performances at the BBC. We begin in 1974 with their Top of the Pops appearance; we even get to see the band entertaining holidaymakers in Torbay in a 1975 Seaside Special.
BBC Radio 2
Ken Bruce will be broadcasting from Turin, introducing the 66th Eurovision Song Contest and bringing listeners each country's performance from the world's most adored song contest. As is now UK tradition, Ken will be toasting Sir Terry Wogan before contestant number nine's performance (from 8pm BST until the end of the final, Saturday 14th May)
All of the pre-recorded specials will be available on BBC Sounds from 30th April as part of the 'Celebrating Eurovision' season.
Ken Bruce said:
"I can't quite believe this will be my 34th time presenting Eurovision, and I'm thrilled that this year I'll be able to once again make the trip to see the final live in the host country, Italy, having had to cover it from a Wogan House studio in 2022. Turin, I can't wait to be there! And of course huge luck to the UK's entry, Sam Ryder with Space Man." 
Saturday 30th April 
Eurovision: The Official All-Time Most Streamed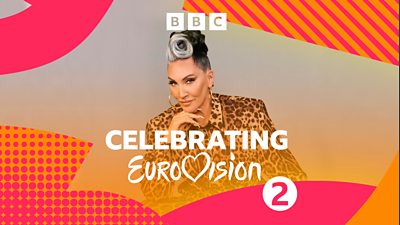 In Radio 2's Eurovision: The Official All-Time Most Streamed – which lands today on the BBC App BBC Sounds, Michelle Visage counts down the Top 50 to reveal that the official most streamed Eurovision song of all time.
The newly unveiled list was compiled by the Official Charts Company using official audio and video streaming data (UK only) from platforms. The programme is available on BBC Sounds from today (Saturday 30th April), and will also be broadcast on 'Eurovision Super Saturday' on Radio 2 (1-3pm BST, Saturday 14th May).
Sunday 1st May
Sam Ryder's Tracks of my Years (5-6am BST)
Sam Ryder is representing the UK at this year's Eurovision Song Contest with the song Space Man and he is in chatting with Ken Bruce about his picks for Tracks Of My Years. Sam's picks includes music from Iron Maiden, Stevie Wonder and his hero, Freddie Mercury.
Sunday 8th May
Following Italy's Eurovision success last year, Jack Savoretti journeys into their music scene past and present, feasting on their colourful offerings to the 'food of love'.
Friday 13th May
The Zoe Ball Breakfast Show (6.30-9.30am BST)
To kick off a massive Eurovision weekend on Radio 2, it's the Breakfast Show with Zoe Ball in London and Richie Anderson in Turin. Richie will be on the streets of this year's host city, meeting Eurovision superfans from all over Europe. With only 36 hours to go until the Contest's final, it's Richie's job to convince the people of Europe that Sam Ryder is the man to vote for! This comes after a busy week on the Breakfast Show, with Zoe catching up with Sam every day, introducing him to Radio 2 Eurovision fans.
Ken Bruce (9.30am-12pm BST)
Ken broadcasts live from Turin ahead of the 66th Eurovision Song Contest tomorrow night. There will be special guests including Sam Ryder, Mika, Graham Norton, and Paddy O'Connell. The show will include a round of the Quiz Show PopMaster.
On Radio 2 on Saturday 14th May:
1-3pm – Eurovision: The Official All-Time Most Streamed
Michelle Visage counts down the Top 50 Most Streamed Eurovision tracks as compiled by The Official Charts Company. Spanning the decades, this chart shows the true diversity and spirit of Eurovision. Join Michelle to relive the glamour, the glitz and the drama – she'll celebrate the wins, commiserate the 'Nil points' and enjoy everything in between from the last 50+ years.
3-6pm – Rylan & Scott live from Turin: Rylan and Scott are live from the 66 Eurovision song contest in Turin.  Richie Anderson is on the road to give listeners a real flavour from the Italian streets and there'll be some very special guests as we build up to one of the biggest nights in showbusiness. Can Sam Ryder do the impossible for the United Kingdom and sweep the board? Either way, it'll be a super Saturday to remember! Douze points all round.
6-8pm – Sophie's Eurovision Kitchen Disco: Blast off with Sophie Ellis-Bextor and her nationwide  Eurovision warm-up party! The Kitchen Disco Queen and her listeners will bring the revelry and the atmosphere, with a live feel-good playlist of Eurodance bangers and Eurovision memories, from 6-8pm on Eurovision Super Saturday. Across the 2 hours Sophie will hear the excitement of Eurovision parties as they kick off up and down the country – getting all the details on costumes, decorations, score sheets and games. Listeners can also enjoy a special hour of Sophie's own Eurovision favourites on BBC Sounds from 30th April.
8-11pm – Eurovision Grand Final 2022: Ken Bruce introduces the 66th Eurovision Song Contest live from the PalaOlimpico in Turin.  It's Italy's turn to host for the third time following their win in Rotterdam last year with the song Zitti e Buoni by Måneskin. Ken brings every country's live performance from the final of the world's biggest song contest, which is watched around the globe by an audience of over 180 million people. He will be joined by broadcaster, journalist and Eurovision guru, Paddy O'Connell, to share the latest news from backstage and his predictions for the big winners of the night.
11pm-2am – OJ's Eurovision After Party The results might be in and the show is over, but the party continues with OJ Borg who will be playing the hits of Eurovision past and present. Expect to hear the likes of Gina G, Lordi, Loreen, Celine Dion, ABBA, Netta, Måneskin, Katrina and the Waves and Radio 2's very own Michael Ball. Plus, Richie Anderson will be reporting live from the streets of Turin, and OJ will be hearing from Eurovision parties from across the UK.
BBC Sounds
One Hit Wonders Eurovision Special
Available on BBC Sounds now is the One Hit Wonders Eurovision Special where OJ Borg plays some of the competition's very best One Hit Wonders, and reveals the stories behind them.
Scott Mills' Eurovision Pocket Guides on BBC Sounds
On BBC Sounds from Saturday 30th April, Scott Mills brings the lowdown on perhaps the biggest Eurovision yet after Måneskin's global breakout success! In four bitesize chunks, he revisits the highs and lows since the UK's last win, takes a deep dive into this year's entries.
BBC Radio 1
Radio 1 continue their support of Sam Ryder. Having appointed himself Unofficial Head of Marketing, Scott Mills continues to spread word of Sam across Europe. He's got Iceland's phallological museum onboard, he's enlisted Italian rockstars Måneskin to support the cause – but can he get one of the world's biggest popstars support before the big day?
Youtube
W/T Sam Ryder: From TikTok to Eurovision
Debuting on the BBC YouTube channel on Tuesday 10th May, this documentary will go behind the scenes following Sam Ryder on his journey to Eurovision. In this documentary, viewers will discover what inspired Sam from a young age, and how he became a TikTok sensation during the pandemic, culminating with Sam duetting with global superstars and reaching a huge fanbase of 12 million. Now he makes his way to Turin to represent the UK at the 66th Eurovision Song Contest, with Space Man.
You can see our editor Joe S interviewing Sam Ryder below:
Will you be watching/listening to the BBC's Eurovision content this year? Let us know in the comments section below!