Further details revealed as the Eurovision 2020 bid book delivery takes place!
Today is the day for the cities interested in hosting the 2020 Eurovision Song Contest to hand over their bid books to the Eurovision 2020 organisation in the city of Hilversum.
Five cities are still in the race: Maastricht, Den Bosch, Utrecht, Arnhem and Rotterdam (The Hague, Leeuwarden, Breda and Amsterdam pulled out in an earlier stage for various reasons).
In these bid books, the cities line out their plans for hosting next year's contest, trying to convince the organisation to pick them because they meet the requirements (and preferably exceed them) when it comes to the venue, the hotel room capacity, an international airport being nearby, enough room for a press center and dressing rooms, if possible even enough to do for visitors and crew in the host city and more! And not to be forgotten: the enthusiasm of the hosting city in question!
The Maastricht delegation, mayor Annemarie Penn-te Strake among them, travelled to Hilversum divided over two busses, those sponsored by world famous violinist, conductor and Maastricht citizen André Rieu!
Arnhem came by bus too, their very own Eurovision bus that is!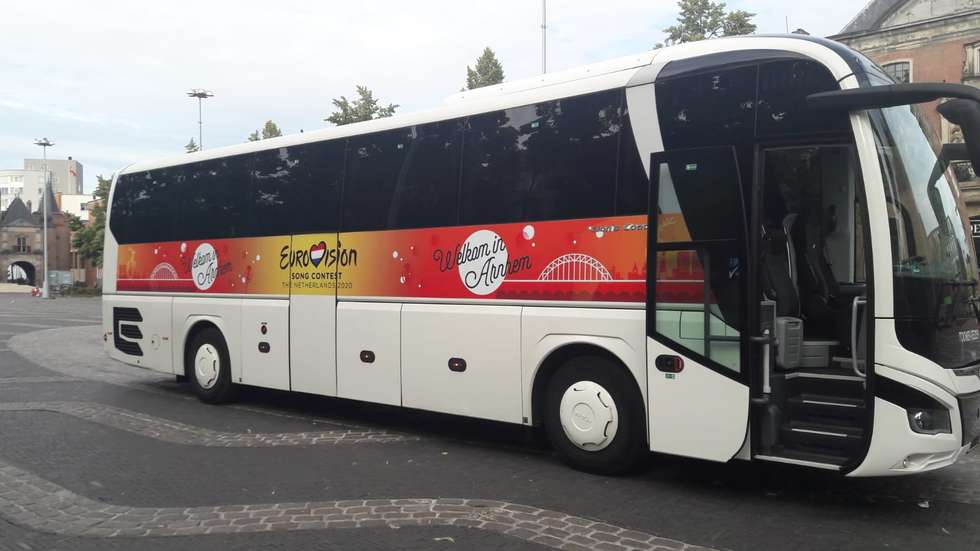 Utrecht are the only city not to send an official delegation. Instead, they'll be delivering their bid book by… bicycle courier!
City councilor Klaas Verschure and Jaarbeurs Director Jacqueline Bakker handed him the bid book and sent her on her way!
Mayor of Arnhem Ahmed Marcouch is happy he and his delegation beat the traffic jams and made it to Hilversum earlier than expected and exclaims: "I'm happy we beat the traffic jams…, now the other cities!"
They also reveal that football club Vitesse is ready to step aside and leave their venue, Gelredome, for a few weeks so the Eurovision Song Contest can take place there!
In the meantime, slogans coined by the different cities come out.
Den Bosch came up with 'Douze de groeten uit Brabant!' (Send them greetings from Brabant!, but really a word play on the famous 'Douze Points' ofcourse!), Utrecht went full Eurovision and kept it in line with today's theme with 'Making Your Mind Up' and Maastricht have created the Eurovision-ready: Come Closer.
Maastricht have also tied it to a true promotional video!
The cities are all trying to convince the Eurovision 2020 team in their own way, but who has convinced you so far?
Let us know in the comments below!